Foreign Minister Marise Payne has used a speech in Washington to urge the Trump administration to end its trade war with China, while acknowledging the US is right to complain about China's theft of intellectual property.
Payne's visit to the US capital coincides with high-stakes trade negotiations between US and Chinese officials as they seek to reach an agreement by the self-imposed deadline of March 1.
It also comes as US intelligence officials publicly called out China for seeking to undermine Western nations – including "currying favour" with Pacific Island countries.
The US has threatened to impose a 25 per cent tariff on US$200 billion worth of imported Chinese goods if the two nations cannot reach a deal on trade that satisfies both countries.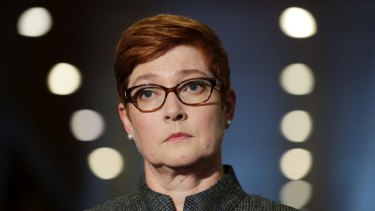 "Australia acknowledges the US and others' concerns about some trade and investment practices, including concerns about the protection of intellectual property and the rules governing the involvement of government entities in markets," Payne said in a speech to the National Press Club on Tuesday, Washington DC time.
"These need to be resolved. However in our view, no one wins from a trade war.
"We welcome recent progress towards a negotiated solution with China, and this week's talks are another important step."
During her visit to Washington, which ends tomorrow, Payne will meet with Secretary of State Mike Pompeo, National Security Adviser John Bolton and congressional leaders.
US complaints about China's trade practices were laid bare the day before Payne's speech with the release of two sweeping indictments against Chinese telco giant Huawei.
The charges against Huawei allege the company paid bonuses to employees who stole confidential information from competitors.
One US employee allegedly smuggled the arm of a T-Mobile robot, known as Tappy, in a bag and sent detailed measurements and photos back to China.
The indictment also charged Huawei Chief Financial Officer Meng Wanzhou, whom the US is seeking to extradite from Canada, with bank fraud and wire fraud.
While the theft of intellectual property forms a key part of US anger at China's trade practices, the Trump administration insists the criminal charges will proceed separately to the trade negotiations.
"Forced-technology issues are part of trade discussions, but any issues as it relates to violations of US law or US sanctions are going through a separate track," US Treasury Secretary Steve Mnuchin said in an interview on Fox News on Tuesday.
The US government believes China's slowing economy – and the fact it has few options to impose new tariffs on US imports – means the country's leaders have strong incentives to strike a deal.
President Donald Trump is expected to meet with Chinese Vice Premier Liu He later this week to discuss trade, ahead of later negotiations with President Xi Jinping.
On Tuesday, US intelligence agencies released their annual Worldwide Threat Assessment which focused on how China is seeking to undermine Western nations.
"China is deepening its authoritarian turn under President Xi Jinping," Director of National Intelligence Dan Coats said.
He added: "China is currying favour with numerous Pacific Island nations through bribery, infrastructure, investments and diplomatic engagement."
The report warned that China is in a position to launch effective cyber attacks against American infrastructure, including cutting off natural gas pipelines.
"We're now living in yet another new age, a time characterised by hybrid warfare, weaponised disinformation, all occurring within the context of a world producing more data than mankind has ever seen," Republican Richard Burr, the Senate Intelligence Committee chair, said.