Female protestors are becoming a ubiquitous feature of the contemporary protest landscape. In the not so distant past, women served mostly in a support capacity during armed conflicts, but this has changed. In the 20th Century, women started to play more active roles in situations of armed conflict.  Today, women engage in non-violent civil disobedience around the world and have for a long time now; however, radicalised females are also increasingly participating in extremist violence. Are we, therefore, witnessing the emergence of a new type of fighter, the violent female political activist?
Miranda Alison , a professor at the University of Warwick, examined the role of female fighters in the Irish Republican Army (IRA) and the Ulster Volunteer Force (UVF), argues that until recently research emphasised women as the victims of armed conflict and not as "perpetrators of violence." Parallel to the disruption of aggressive-male and pacifist-female stereotypes, in wars of liberation, women are also combatants besides an assortment of other functions in both military and armed groups.
In Ireland, the Cumann na mBan, an auxiliary organisation, allowed women to "be seconded into the IRA" and activated militarily yet were not equal members of the paramilitary organisation. Later, when the IRA restructured and formed cells, females achieved acceptance on an equal basis with the men. Interestingly, motivated women who engage in political violence often focus on issues surrounding the protection of their families and homes, rather than the more intellectual political goals of men, which are sometimes interlinked, but that sets females apart from the males as they both engage in political violence.
Since armed political conflict draws in different sets of actors, we turn now to the participation of women in paramilitary organisations that are engaged in violent extremist actions in the contemporary civil disobedience scene. Besides the IRA and the UVF in Ireland, a growing number of groups in Europe composed of and or headed by female militants have drawn the attention of the media as well as academics.
Dr Carrie Hamilton, at Roehampton University, described people's responses after the news that the Basque independence movement, the ETA, which started during Spain's Franco dictatorship — had appointed a woman, Iratxe Sorzabal Diaz, as its new leader. Some expressed curiosity and surprise, and others wondered if women were taking power from men, or if female activists are more lethal than males, and why would a mother want to join a terrorist organisation.
Dr Hamilton concludes that a woman serving as the head of ETA will not necessarily speed attempts to end the Basque conflict. The fact that Sorzabal was a mother did not necessarily make her more inclined to seek peaceful solutions; "the mothers of ETA prisoners, the most public female face of radical Basque nationalism, are often unwavering in their support for the armed organisation." The Black Bloc, instead of appointing female leaders, began forming gender-specific cells.
Professor Francis Dupuis-Déri, of the Université du Québec à Montréal (UQAM), says that the Black Bloc defines itself as an anti-establishment protest tactic where protestors dress entirely in black with masks to hide their identities. Indeed, many female militants chose to form small single-sex cells, thereby guaranteeing more solidarity among members.
Female militants have most certainly played a significant role in the 2019 Hong Kong protests as well as in past demonstrations. Raquel Carvalho, an Asia Correspondent for the South China Morning Post, recounted stories of female participants that revealed thought-provoking experiences. The movement helped change gender stereotypes yet also provoked sexual violence and other types of harassment.
Among these experiences, 23-year-old Jordyn, an NGO worker, took to the streets clad in typical protester gear declaring "I believe that if you want justice, you need to fight for it." After experiencing tear gas for the first time that impaired her sight and breathing, but she nevertheless helped younger girls. Unafraid of getting arrested, she worries about being assaulted by others in the crowd.
Another female activist, 21-year-old Stephy, declares that she and her friends are prepared to fight the "triads." As the violence has increased, she is ready to fight "tooth and nail" for the cause. Throughout the demonstrations, Stephy noted an increase in the number of girls on the front lines and realised that women could do more. In Hong Kong, however, identifying the gender of activists is difficult.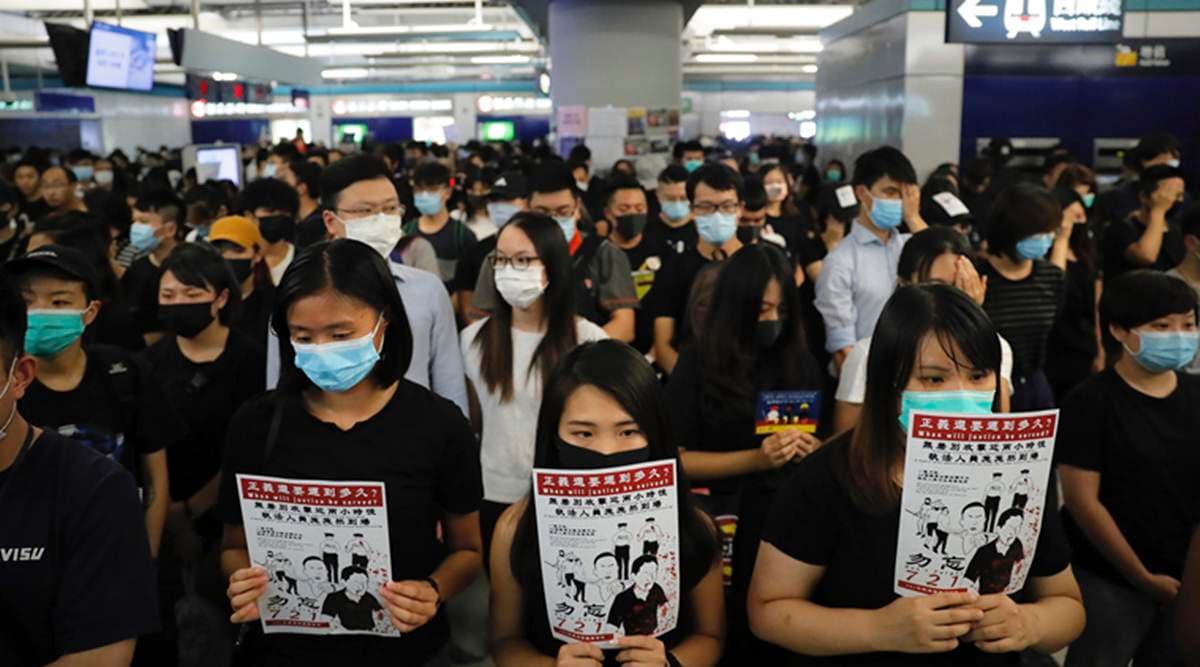 Almost all protestors wear black clothing, face masks, and helmets, so it is challenging to differentiate the gender of the activists, much less the various factions present at the demonstrations. Of course, that is the point: female militants are determined to be just as anonymous, empowered, and violent as males.
In the Hong Kong protests, activists are employing symbols to pass along messages during a demonstration to warn bystanders of dangerous actions. Coloured clothing and flags represent different factions. As the young women participants Jordyn and Stephy indicate, young female protesters are feeling empowered through their interactions will male demonstrators of whatever factions.
Liam G. Hearn is a former academic, author, political commentator and citizen of the world.