A growing number of personalities have taken to YouTube to share their views on Hong Kong news and politics since anti-government protests began last June. About a dozen have started their own programmes on the video-sharing digital platform, joining about 30 others who have been active since the pro-democracy Occupy protests shut down parts of the city for 79 days in 2014.
The newcomers include Alan Leong Kah-kit, chairman of the pro-democracy Civic Party, as well as retired journalist Kwan Hing-ning and advertising industry employee Ivan Mok Ka-kit, a pro-establishment candidate who was defeated in last November's district council elections. Many have attracted a growing following, reflecting the demand for insights into the social unrest that has plagued Hong Kong for nearly eight months.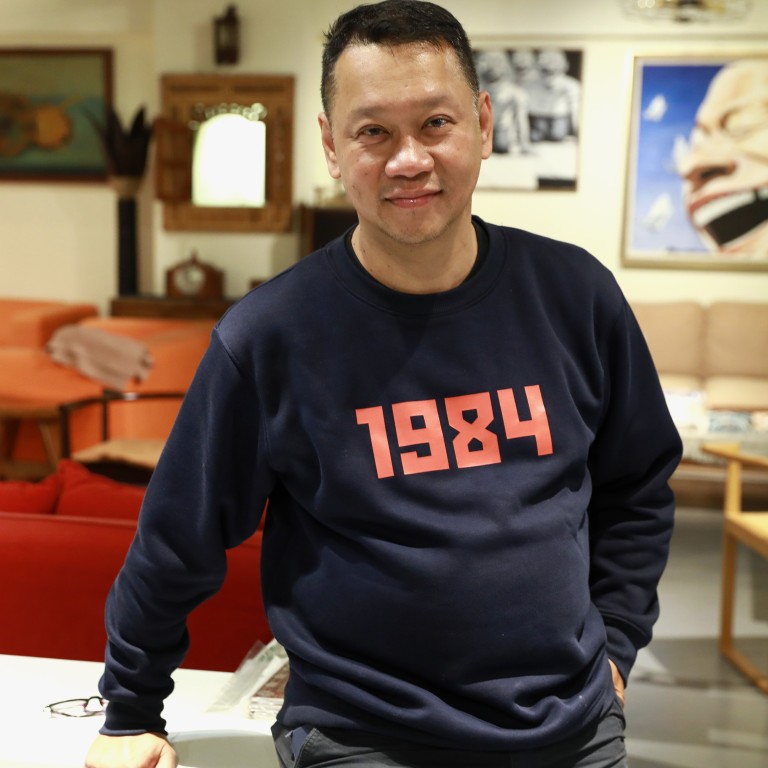 "We've noted a huge demand for views of opinion leaders since the anti-government crisis started in June," said Lau Sai-leung, a writer who served as an adviser to the Central Policy Unit from 2006 to 2012.
He started his online radio website, Singjai.com, in June 2014 but saw the audience for his current affairs programme, Loudzone, rise sharply over the past seven months. He puts out three episodes each week, and the number of hits for each episode peaked at nearly 300,000 last August and September.
"Our subscribers on YouTube surged from 70,000 in June to 230,000 recently," said Lau, who supports the protest movement.
He believes the growing interest in programmes like his reflects Hongkongers' hunger to make sense of events in the city.
"For many Hong Kong people, what has been happening since June is something novel and unexpected," he said. "They look for online news commentary programmes to understand what is going on."
Among the newcomers sharing their views online is Civic Party chairman Leong, who started his YouTube channel last July and has seen his following grow from about 80,000 hits last August to about 120,000 in early January. Retired journalist and veteran political commentator Kwan started his YouTube programme last November and saw the number of hits rise from several thousand initially to more than 50,000 last month.
A former senior editor of regional Chinese-language news magazine Yazhou Zhoukan and editorial writer of the Oriental Press Group, he said: "I am well versed in politics in mainland China and Hong Kong and these are the major topics I deal with on my programme. I hope to give some insights and perspectives to my viewers."
His episode on the appointment of Luo Huining as director of the central government's liaison office in Hong Kong scored more than 50,000 hits in December.
"Viewers wanted to hear my views on why Luo replaced Wang Zhimin as Beijing's top envoy to Hong Kong in the first major leadership change since anti-government protests broke out in June," Kwan said.
Alan Leong, who has been running his programme on a weekly basis, said: "It was good to have a platform that can reach out to audience, especially those in overseas."
"I feel distinctly some local media platforms are playing certain distance from me on certain subjects. So my online programme can provide uncensored platform for me to share my thoughts," he said.
Defeated election candidate Mok is a YouTuber with an unabashedly pro-government stance and has already attracted more than 66,000 subscribers. The 24-year-old started his programme in early December, and often uses it to criticise the pan-democratic camp and radical protesters for undermining the city's stability.
"I hope to voice out alternative views to counter the YouTubers who support pan-democrats and protesters," Mok said. "I also criticised the government for its slow actions to contain the spread of Wuhan coronavirus," he said.
Mok ran his programmes every day and collected nearly HK$3,000 in January. Joseph Chan Man, emeritus professor of journalism and communications at the Chinese University of Hong Kong, said that in times of social unrest, people tend to seek explanations of current affairs.
"They want something more than what is reported by traditional media outlets," he said.
Finance sector consultant Gordon Poon tung-hoi, who started his YouTube programme in 2017 with three episodes a week, doubled his output after the protests began last June. He scores between 10,000 and 50,000 hits per episode.
"Apart from current affairs in Hong Kong, I also talk about history and political concepts, such as the origin of totalitarianism," said Poon, who is sympathetic towards the pan-democrat camp. "I hope to educate my viewers so they will be better equipped if they take part in social movements."
So far, the YouTube commentators say there is no big money to be made from sharing their views. Lau Sai-leung said his programme gets two or three online advertisements per episode if the hit rate exceeds 200,000 – and that has happened regularly since last August.
"That brings about HK$1,200 for each episode," he said. "My programme has three episodes a week, so we have been collecting more than HK$14,000 per month." 
But Lau said the advertising revenue was not enough to cover the operation costs for his online radio website. He said a dozen viewers made regular donations, but he declined to disclose the amount.
"Drawing a monthly income of several thousand dollars still sounds good if you have your own job and host online commentary programmes in your spare time," he said.
Professor Francis Lee Lap-fung, director of the school of journalism and communication at Chinese University, said YouTubers who hope to attract ads have to show they can attract a big enough niche audience.
"There are limits to growing online ad revenue for news commentary programmes which are not tied to any particular category in the consumer market," he said. "For advertisers, YouTube food or travel programmes may be better targets for placing their ads.