Three months into the longest social movement in Hong Kong's history, violence between rival camps, protesters and police has escalated.  For protesters on the front lines of the demonstrations since early June, July 1 marked a turning point for the movement when hundreds of protesters stormed Hong Kong's Legislative Council building.
That night, Brian Leung, one of the movement's most outspoken leaders, famously took off his mask and delivered a speech inside the legislative chamber. Many people thought he took a big risk, but he said it was the right thing to do.
"I knew the act of storming the Legislative Council would be very divisive to the movement, and in order to justify our actions, I knew someone had to step up and channel the momentum into a good direction," Leung said.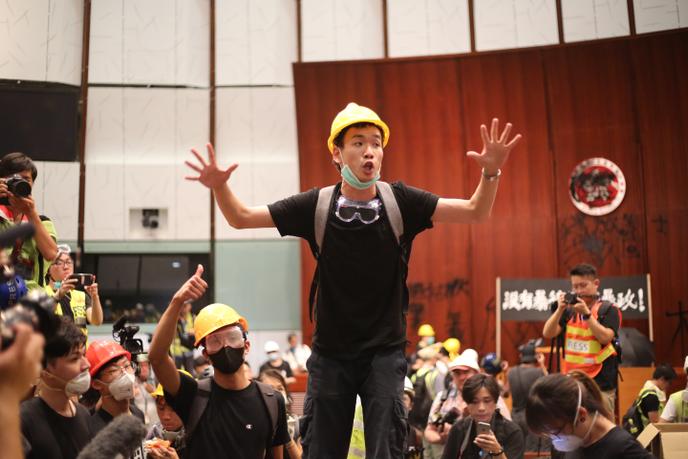 Leung said he wasn't nervous when taking off his mask to give a speech in front of dozens of journalists. But a few days after his identity was exposed by several media outlets, he realized it was no longer safe for him to remain in Hong Kong and decided to leave for the US.
"After making such a bold decision, I wanted to give myself the space to think about the best option for me going forward, but this space didn't exist in Hong Kong," Leung said. "I chose to leave."
Widespread arrests of protesters
Since July 1, at least 79 Hong Kong protesters have been charged with rioting, a crime that carries a jail sentence of up to 10 years.  Out of fear that they would be imprisoned under arbitrary charges imposed by the government, some demonstrators have been forced to leave Hong Kong. Additionally, Hong Kong police carried out a wave of mass arrests on August 30, targeting several prominent pro-democracy activists including Joshua Wong and Agnes Chow.
Leung said that these trends are a sign that Hong Kong's judicial system has become a tool for the government to suppress the right to assembly. "The legal definition for rioting is extremely broad, and the law basically gives the judiciary a lot of discretion in terms of defining what constitutes rioting," Leung said. "Hong Kong's legal system has been used by the government to repress human rights and freedom."