BEIJING — A look at recent developments in the South China Sea, where China is pitted against smaller neighbors in multiple disputes over islands, coral reefs and lagoons in waters crucial for global commerce and rich in fish and potential oil and gas reserves:
VIETNAM UPSET AT CHINESE GLOBE
Vietnam's government stated its concerns to Ukraine over plastic globes being sold in the country that showed the Vietnamese province of Quang Ninh as Chinese territory.
The state-run Tuoi Tre newspaper quoted the Ukrainian company that sold the globes as saying they were purchased from Chinese traders in Kharkov, Ukraine's second-largest city. It said Vietnam's embassy in Ukraine had sent letters to the Ukrainian foreign ministry and the company involved and that sales had been discontinued.
The issue was reported in a briefing paper produced by a consultancy run by Carlyle Thayer, an expert on Southeast Asia and emeritus professor at Australia's University of New South Wales.
Quang Ninh borders China and is home to the famed Ha Long Bay scenic area.
China's military seized islands claimed by Vietnam in the Paracels group in a bloody 1974 battle and the two continue to feud over the chain and other South China Sea territories.
In May, Vietnamese anger was sparked by a group of Chinese tourists who arrived in the country wearing T-shirts featuring the so-called "nine-dash line" demarcating Beijing South China Sea claims, many of which overlap with Vietnam's own.
TAIWAN REASSURES OVER DRILLS
Taiwan's coast guard said annual live-fire exercises conducted at Taiping island in the Spratly island group were routine and didn't endanger shipping.
Neighboring countries were informed in advance of the exercises carried out on last week, the coast guard said.
Taiping island, also known internationally as Itu Aba, is Taiwan's sole possession in the highly contested Spratly chain. It is the largest naturally occurring islet in the group but has been dwarfed by China's construction in the area of seven man-made islands atop coral reefs equipped with airstrips and other military infrastructure.
China, the Philippines and Vietnam also claim Taiping, and Vietnamese foreign ministry spokeswoman Nguyen Phuong Tra last week had said her country "resolutely opposed" the drill. Tra said the exercises violated Vietnam's sovereignty and posed a threat to navigation and aviation security in the region, Vietnam's official news agency reported.
Taiwan's formal claim to virtually the entire South China Sea mirrors that of China's, but it has limited its activities to Taiping and the Pratas group to the north.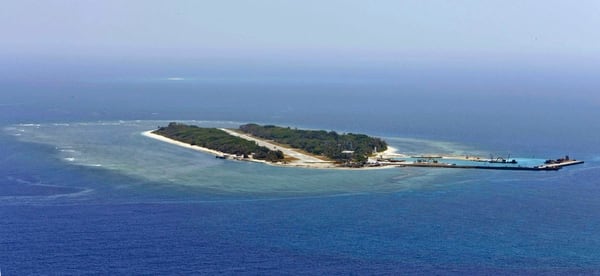 PHILIPPINES CONCERNED ABOUT DEPLOYMENTS
The Philippines says it is concerned about possible Chinese nuclear deployments in the South China Sea following the issuing of a Pentagon report warning Beijing could use nuclear energy to provide power to man-made islands.
Presidential spokesman Harry Roque said last week that Manila was "concerned about the entry of any and all nuclear weapons into the Philippine territory because our constitution provides that we are a nuclear-free zone."
Roque also cited an Association of Southeast Asian Nations treaty designating the entire region a nuclear-free zone.
"We are concerned about the possibility that any foreign power, be it American, Russian, Chinese may bring nuclear warheads into our territory and into ASEAN," Roque said.
In its 2018 annual report to Congress on military and security developments involving China, the Pentagon said China's plans to use floating nuclear power plants to power its islands "may add a nuclear element to the territorial dispute.
"In 2017, China indicated development plans may be underway to power islands and reefs in the typhoon-prone South China Sea with floating nuclear power stations; development reportedly is to begin prior to 2020."
The report said nothing about the possibility of China deploying nuclear weapons in the South China Sea.
MALAYSIA CANCELS CHINESE PROJECTS
Malaysia has suspended a multibillion-dollar raft of construction projects financed by Chinese loans, possibly stymieing Beijing's drive to strengthen its hold over Southeast Asia's economy.
China has sought to downplay the move announced by Prime Minister Mahathir Mohamad on the final day of a visit to Beijing on Aug. 20, but it is still seen as a blow to Chinese President Xi Jinping's signature "Belt and Road" initiative.
Mahathir said he was seeking support from China's leaders over Malaysia's situation as it deals with a mass of debt and other economic problems created under previous administrations.
Mahathir is a vocal critic of large-scale investment in his country backed by loans from Beijing and has tested Malaysia's ties with China by suspending Chinese-financed infrastructure projects. The suspended projects comprise a Chinese-backed $20 billion East Coast Rail Link and two energy pipelines worth $2.3 billion.
Malaysia has claims to territory in the South China Sea that overlap with those of China, but under Mahathir's predecessors, took a low-key approach to asserting those in deference to strongly positive ties with Beijing.