A Chinese coffee vendor in the hipster heartland of trendy East London has become a rallying figure in the battle against gentrification.
For 15 years, come rain or shine, Frank Wang, 52, originally from Beijing, was licensed to sell cappuccinos to time-pressed commuters from his van outside Bethnal Green tube station, by a small park.
However, when the site of a disused public toilet behind Wang's stall was being converted into a trendy Ibiza-themed beach bar last April, the coffee vendor's electricity supply from the station was cut off, supposedly for safety reasons.
Wang, who is stuck paying around £600 a month in site fees to Transport for London (TfL), the operators of the station, says he bought a mobile generator but it was stolen. He has since been unable to work, and his van lies abandoned, to the fury of his supporters and former customers.
"They gave the toilet to the rich people, they didn't tell me they were going to do it.," the father-of-two said.
"They offered me an alternative site, by a place where all the homeless people are, and also across the road in front of Starbucks, which is ridiculous. How can I compete with them?
"I am trying to stay in Bethnal Green because a lot of people want me to stay there."
His plight has resonated with opponents of the area's gentrification, and the loss of its working-class and bohemian character.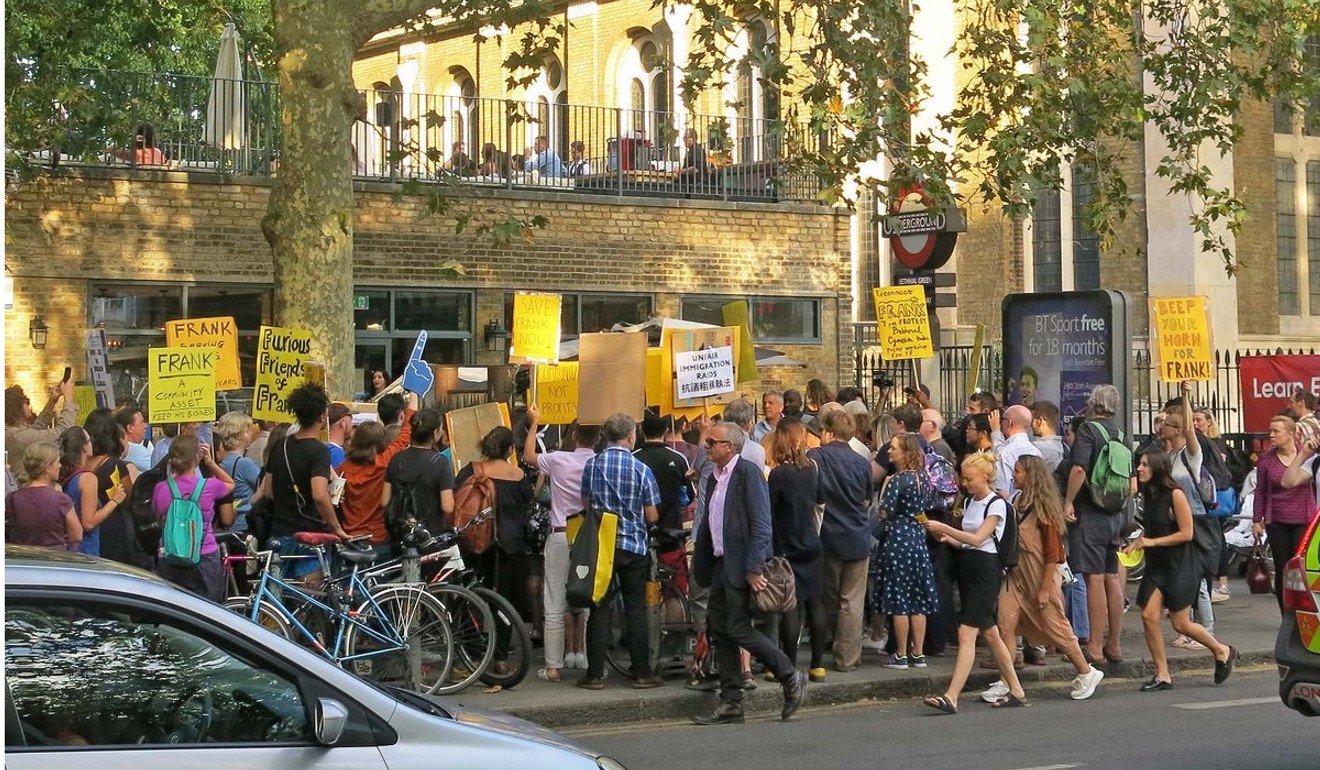 Two weeks ago, around 300 of Wang's supporters staged a rally outside Bethnal Green station, bearing placards declaring "Furious Friends of Frank" and "We Love Frank".
An online petition against Wang's treatment has gained more than 4,000 signatures.
Local resident Sam Odd, 33, who works for an arts charity said she set up the petition because "I believe in community, and people who make a difference to the community, which Frank does. He's a lovely man and he is being bullied and it is wrong."
Wang has gained the support of both the local Mayor John Biggs and the local MP Rushanara Ali, both customers of the Chinese coffee vendor.
"Mr Wang's coffee cart is a valued business and cultural market of Bethnal Green" Ali wrote in a letter of support.
"I am disappointed with how Mr Wang has been treated and have asked the Council and Transport for London to urgently assist Mr Wang to ensure that this much-loved coffee cart will not be relocated or forced out of business. Mr Wang is a wonderful friend to his customers, who include me, and I very much hope this matter can be resolved as quickly as possible."
Graeme Craig, Director of Commercial Development at TfL, said: "We completely understand that this is extremely distressing for Mr Wang and we are doing everything we can to ensure his business continues to thrive as part of the Bethnal Green community."
Wang has also gained the support of London's Chinese community leaders.
"It's great to see people coming out to fight for this hard-working, good Chinese man," said Edmund Yeo of London's Chinese Information and Advice Centre.
Wang said TfL wrote to him last Friday telling him it was in talks with Tower Hamlets council about restoring his power supply.
But for the time being, Wang is still waiting at his home in South London, unable to work.