Ringing the opening bell on Wall Street to mark the public trading debut of your company would be a dream come true for most entrepreneurs – but not for Colin Huang.
His mainland Chinese social commerce company Pinduoduo started trading on the Nasdaq last week, making Huang China's youngest self made billionaire with a net worth of US$9.89 billion, according to Bloomberg's billionaire index. Huang, founder and chief executive of the company, wasn't there for the opening bell though.
In fact, he did not even travel to New York to witness the historic moment, choosing to stay in Shanghai with investors and customers to participate in a simultaneous remote bell-ringing ceremony.
"We wanted to let more of our customers take part in ringing the bell, but it might have been a bit of a hassle to arrange visas for all of them to travel to the US. Isn't it better that consumers, investors, all of us, myself included, be here [in Shanghai]?" Huang told mainland Chinese media on the day, adding that he prefers to avoid long-haul travel to prevent the recurrence of an ear infection.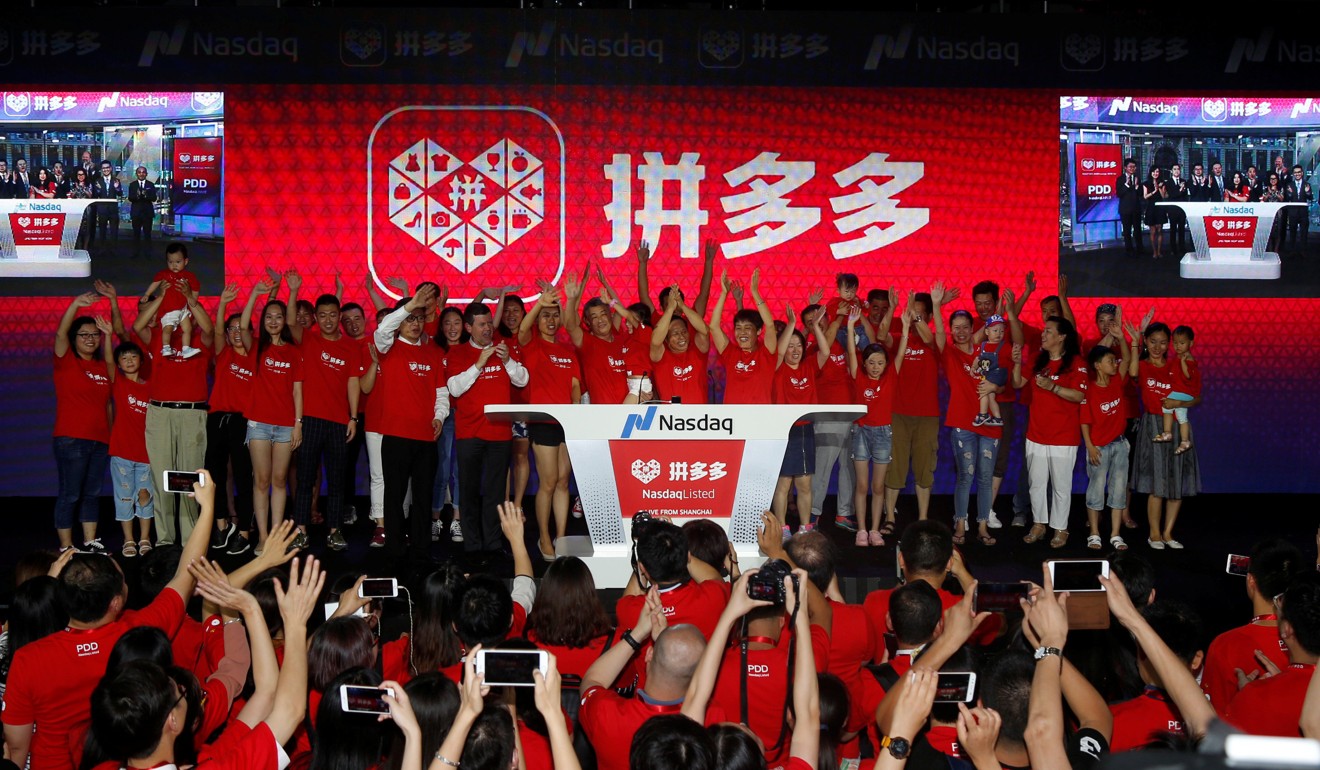 Huang, an ex-Google employee, is a serial entrepreneur. Pinduoduo, now worth some US$21.1 billion, is the 38 year-old's fourth company, after a string of successful previous ventures.
The idea for Pinduoduo, which melds the social aspect of sharing and messaging together with online group-buying, came to Huang when he observed how China's high penetration of mobile devices was changing the way people lived, including enabling them to make payments via mobile devices, he said in a recent video interview with Tencent News.
Like Alibaba Group's Taobao e-commerce platform, Pinduoduo allows merchants to sell items such as women's fashion, fresh fruit and vegetables, and even electronics. The difference is that users who click into a Pinduoduo listing will be able to get the product at a cheaper price if they share it with someone else in a "group buy" deal.
The social commerce model is part of the social+ model often adopted by internet companies in China, where business and social aspects are blended together to appeal to Chinese users, according to the China Internet Report co-authored by the South China Morning Post, Abacus and 500 Start-ups.
Pinduoduo declined an interview request and did not respond to a request for comment as it was in an official quiet period.
The meteoric rise of social commerce company Pinduoduo in China's trillion-dollar e-commerce market has taken many by surprise, since the industry has long been dominated by incumbents Alibaba and JD.com. (Alibaba is the parent company of the South China Morning Post.) Within just three years, Pinduoduo has accrued some 300 million consumers and racked up gross merchandise volumes of over 140 billion yuan (US$20.5 billion) in 2017, making it the third-largest e-commerce company in China by sales numbers.
Huang, who regards Duan Yongping, founder of retail chain Bubugao as a mentor, has rubbed shoulders with many of China's legendary entrepreneurs, including NetEase's Ding Lei, Alibaba co-founder Sun Tongyu, and SF Express founder Wang Wei – all of whom have reportedly made angel investments in Pinduoduo. In 2006, Huang even had lunch with legendary US investor Warren Buffett, according to Caijing magazine.
While Huang may now be a billionaire, his roots are nothing if not humble. He was born in 1980 to factory worker parents on the outskirts of Hangzhou, the city that is home to China's e-commerce giant Alibaba.
As a child, Huang demonstrated an aptitude for mathematics, winning a medal in a Mathematics Olympiad competition and receiving admission into Hangzhou Foreign Languages School, an elite high school in Zhejiang province.
It was during high school that Huang started interacting with other students who came from wealthier backgrounds. At the time the daughter of Hangzhou's mayor was his classmate, and he grew more confident and comfortable interacting with some of the brightest, most powerful people in China.
"Compared to other schools, we were exposed to the western culture and influence much earlier, deeper and to a greater extent," Huang recounted in a post on his WeChat account.
At the age of 18 he went to study computer science at the prestigious Zhejiang University, where he was selected as one of the few Chinese fellows during his freshman year to be part of the Melton Foundation, established by Verifone founder Bill Melton.
Huang also interned at Microsoft's Beijing office, where he drew a salary of 6,000 yuan, he said in an interview with Bloomberg. "At the time … [my internship salary] was already more than the salary of my mum," he said.
Huang's journey to the US began when he enrolled in the University of Wisconsin for a master's in computer science. His professor, impressed with Huang's performance, had written him recommendation letters for the biggest tech giants of the early 2000s – Oracle, Microsoft and IBM. He received job offers from all three, but turned down all of them to apply for a job at Google in 2004, the same year the search engine company went public.
"Microsoft was very established. [Back then] if you wanted to get a green card it was probably the best place to go," Huang said. He opted for the uncertainty of joining an internet start-up and his gamble paid off.
In the three years that Huang was an engineer at Google, the company's shares jumped from U$85 to more than US$500, and his options were worth a fortune, giving him what he called "basic financial freedom".
Huang moved back to China in 2006, around the height of Google's battle with Baidu for search engine dominance in the country. But he soon tired of flying back and forth for the smallest of matters that required signing off from Google's founders Larry Page and Sergey Brin.
The straw that broke the camel's back, according to Huang's retelling of the story to Bloomberg, was when he travelled across the Pacific to get them to sign off in person on changing the colour and font size of the Chinese characters displayed in the search results. He resigned soon after.
By 2007, Huang was back in China and striking out on his own, starting an e-commerce site called Ouku that sold consumer electronics and home appliances. He sold the venture in 2010, then started his second company Leqi, which helped foreign brands market their stores on popular e-commerce platforms like Tmall and JD.com.
His third company was a gaming studio called Xunmeng that created web-based role-playing games. At the time, it offered games that featured scantily clad female characters who could fight alongside the players. While not illegal, any erotic or sexually suggestive content is a grey area in China, a heavily censored society.
By the time Huang decided to start Pinduoduo, he already considered himself financially independent.
"I've never thought of changing the world, I just want to do things properly step by step. If I can change the way people go about things in their daily lives, I think that's already not too bad," he told Tencent News.
By the time Huang launched Pinduoduo in 2015, the e-commerce space in China was already dominated by Alibaba and JD.com. But Huang, armed with experience in e-commerce as well as games, saw a way to gamify the online buying experience.
At first glance, the Pinduoduo app seems like any other e-commerce platform. Products are split into categories – fashion, shoes and bags, mother and baby, food, electronics, even automobiles. Clicking into a category, say electronics, brings up a list of products together with its discounted prices – a Wifi router for 65.8 yuan, a 6.1-inch, 128GB Android smartphone for 588 yuan.
The catch is that you only get the discounted price if you manage to get someone to purchase the item as well, and so users either share the deal with friends on messaging platform WeChat, convincing them to buy the item as well, or pair up with a stranger to buy the items together.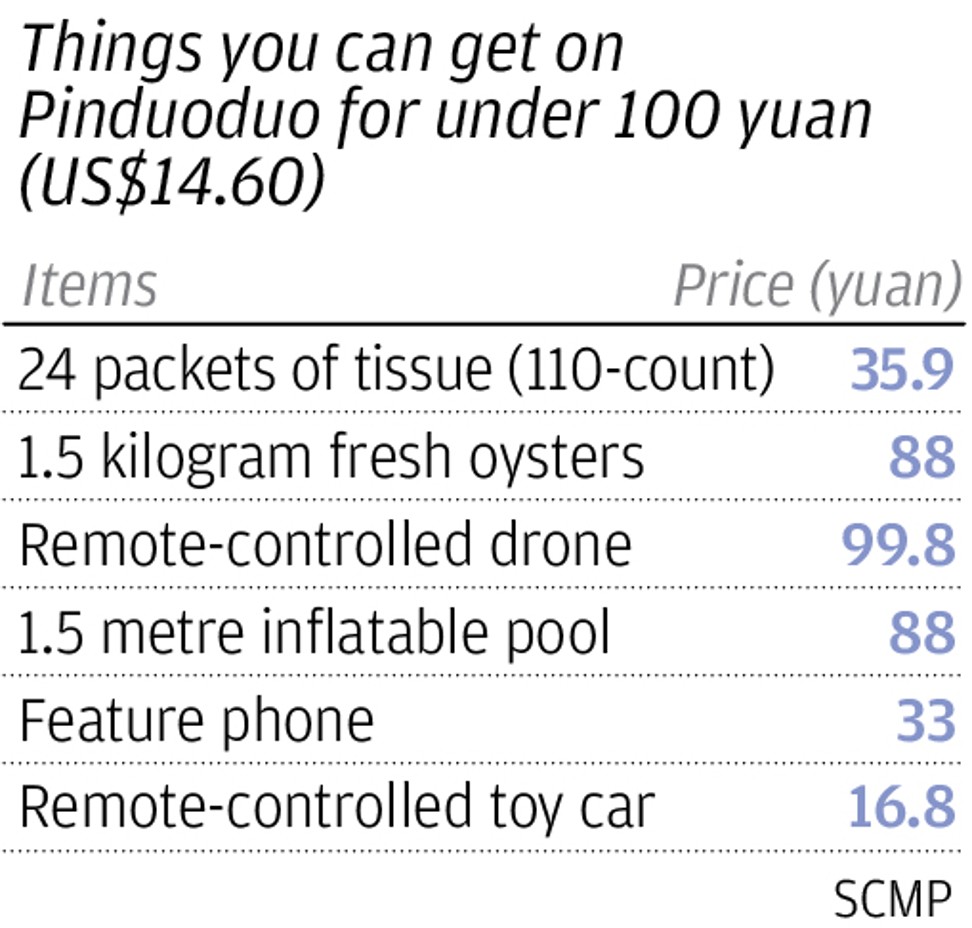 The majority of its users come from lower tier Chinese cities, where salaries are lower and people are not as affluent, according to data from research institute Jiguang. However consumers from these markets could prove to be very lucrative for Pinduoduo. A Goldman Sachs report last year estimated that 71 per cent of Chinese who will begin shopping online in the next few years will come from lower-tier cities. In 2015, e-commerce spending in lower-tier cities also surpassed first and second tier cities for the first time, according to a McKinsey report.
"The online shopping market in top-tier cities are already occupied by big players, whereas the lower-tier cities still have large potential. Due to the relatively lower housing prices, living costs and work pressure in lower-tier cities, people living in those areas are more willing to spend money and time on these internet products," said Neil Wang, Greater China president of consultancy Frost and Sullivan.
Pinduoduo also draws users in via other gamification features. There is a section displaying offers exclusive only to new users, such as lipstick for just 1 yuan, or a barbeque grill for 49.9 yuan.
In another section called "Slash the price and get it for free", users are shown a list of products – a smart robot worth 72 yuan, for example. After clicking into the listing they see the price has been reduced by 9.34 yuan. By sharing the listing with more friends, they can further reduce the price, the app states. The aim is to get as many friends as possible to click on the listing to get the price down to zero, although this gets progressively harder as the reduction in price for every friend who clicks gets smaller each time.
In a way, this gamification approach has helped promote Pinduoduo by word-of-mouth. Friends who receive a link to buy an item on Pinduoduo can already see that items are cheap, so they are compelled to check out the app themselves. Those who receive requests to help slash the price of an item wonder if they too can get products for free. Across the country, swathes of users have created groups on WeChat dedicated to helping each other slash prices on Pinduoduo.
George Tang, a 31 year old engineer from Delingha city in Qinghai province, says he has spent about 6,000 yuan over the past two years buying items on Pinduoduo, including 148 yuan for a remote-controlled helicopter, 29.90 yuan for 4 kilograms of Vietnamese mangoes, and some oysters for just 82 yuan.
"Most of the items I buy on Pinduoduo are fresh food but sometimes I buy toys for my child and some daily essentials," Tang said. "Ninety-five per cent of the time the products are as described on the listings, but perhaps because where I live is more remote, it takes a longer for things to be delivered so sometimes the food doesn't arrive in great shape."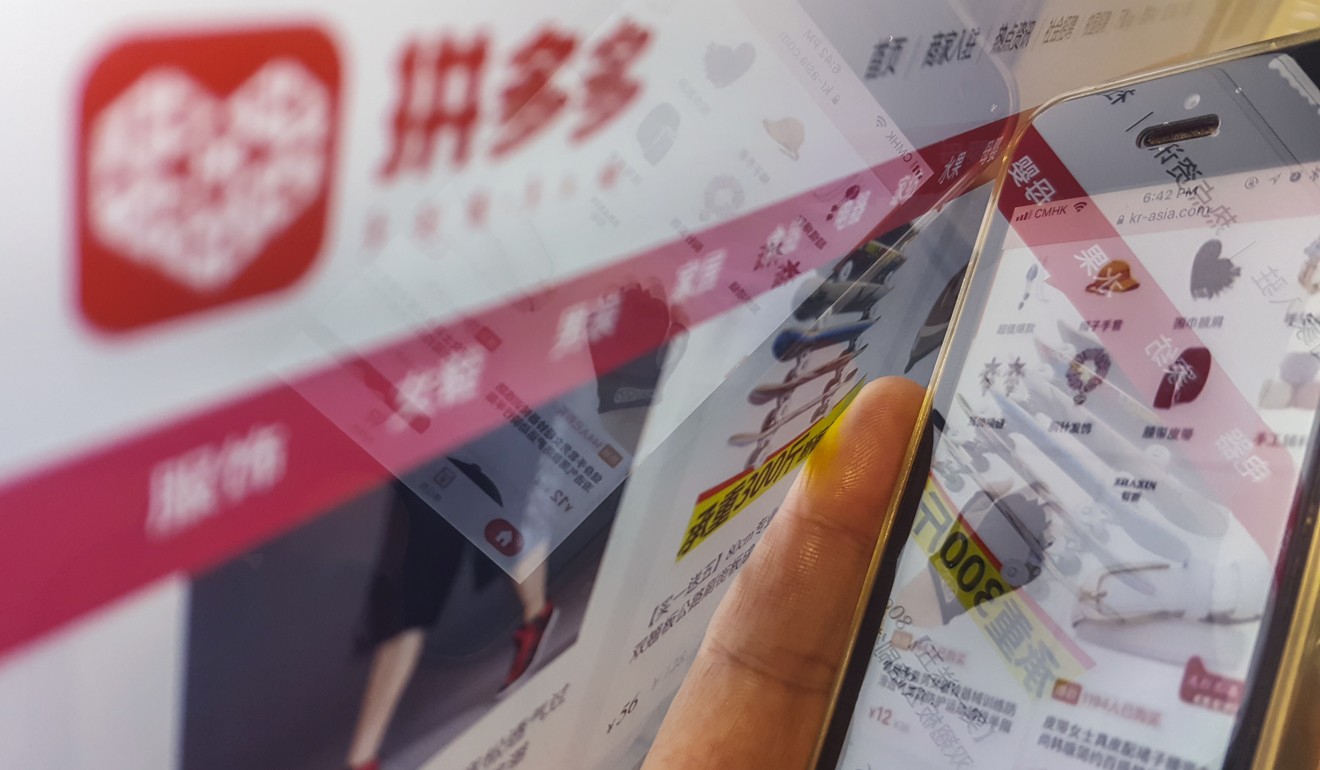 Pinduoduo has long been plagued with complaints that it trades quality for price, allowing merchants to offer inferior products at rock-bottom prices to capitalise on the platforms' popularity. Since its public listing in late July, the company has also seen a slew of negative press reports calling it out for allowing counterfeit and imitation products on the platform.
US diaper brand Daddy's Choice slapped it with a trademark infringement lawsuit before the listing while Chinese television maker Skyworth said Pinduoduo had been carrying many counterfeit Skyworth-branded items on the platform, and asked the company to take them down.
Last week, China's markets regulator, the State Administration for Market Regulation (SAMR), called on relevant authorities to launch an investigation into the complaints received about Pinduoduo's counterfeit and imitation products. Pinduoduo later issued a statement saying it would co-operate with authorities and implement stronger mechanisms to weed out such products from its site. The company's share price, which traded as high as US$27.54 in its debut, dipped to its offering price of US$19 after news of the probe broke
"What companies like Alibaba experienced when they started out is also something we have to go through," Huang said.
Alibaba has spent millions of dollars in its efforts to fight counterfeits, including using artificial intelligence systems that can automatically identify, take down and block listings that appear to be knockoff or counterfeit goods
Whether Pinduoduo's rapid rise to fame turns out to be a flash in the pan or it becomes a genuine competitor to incumbents like Alibaba and JD.com remains to be seen, according to Shaun Rein, founder and managing director of the China Market Research Group.
Some of its most popular products are commoditised items like toilet paper or laundry detergent.
"Many consumers are looking for better value and are becoming more price sensitive on items they don't care about," said Rein. "When you're not rich, you don't care what toilet paper you use to wipe your butt."