Ever wished your home looked more like the Great Hall of the People in Beijing? Well it soon could, with a range of replica ceiling lights available from one of China's top e-commerce sites for less than the price of a decent steak.
Based on the actual designs found inside the famous political building in Tiananmen Square, the metal-and-plastic fittings come in a choice of styles and sizes, with the largest measuring a whopping 1.8 metres (six feet) in diameter.
The classic look features three tiers of lights under circular shades with scalloped edges, with a five-pointed Communist Party star printed in the centre of the smallest.
An alternative design incorporates three tiers of red shades, with the smallest printed with a hammer and sickle design in yellow.
Prices for the lights, which are available on Taobao, start at just 207 yuan (US$30), with the largest selling for more than 15,000 yuan.
Taobao is a unit of Alibaba Group, which also owns the South China Morning Post.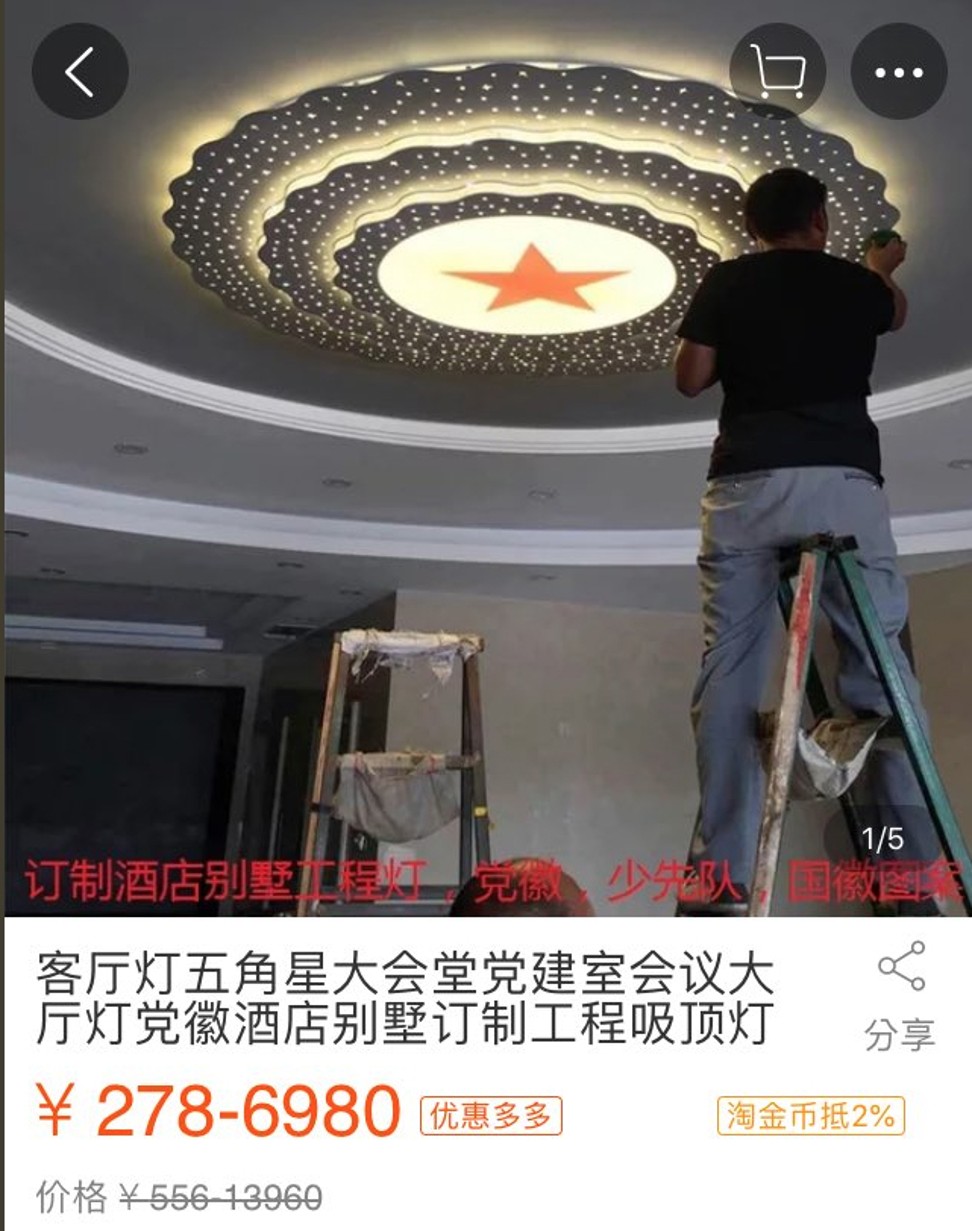 Reaction to the products from the people who have bought them has been mixed.
"The results are very good," one person wrote. "It's very atmospheric, installation is simple, and the price is cheap and good value."
"The quality is so bad!" said another. "The paint has rubbed off in many places, and half the lights didn't even turn on after I installed it!"
Like the Houses of Parliament in London or the Capitol Building in Washington, the Great Hall of the People is one of China's most important government buildings.
It plays host to the annual meetings of the national legislature and Communist Party's top political advisory body – known collectively as the "Two Sessions" – as well as the party's national congress, which is held every two years.
The replica lights are not the only Communist Party kitsch to be found on Taobao. Its vendors offer everything from replica Cultural Revolution propaganda posters, to flags, badges, and hammer and sickle alarm clocks.
For the more discerning collector strong markets for genuine Communist-era memorabilia, both within and outside China, mean the most sought-after pieces can fetch hundreds of thousands or even millions of yuan.