A secondary school in southwest China has defended its decision to punish a student for using the bathroom during afternoon nap time, saying he "broke the rules" by disturbing others who were resting.
The local education department told Shanghai-based news portal Thepaper.cn on Tuesday that the school had been asked to review its policies after the incident came to its attention when a notice about it was posted online.
In a statement on Tuesday, the school in Dali, Yunnan province said the student had been given a formal warning late last month, but did not say how he would be punished.
The school said the matter would not go on the student's permanent record and that the punishment could be dropped, according to the statement on WeChat.
"If, after further counselling, the student can sufficiently demonstrate that they understand the mistake they have made, the punishment may be revoked," it said.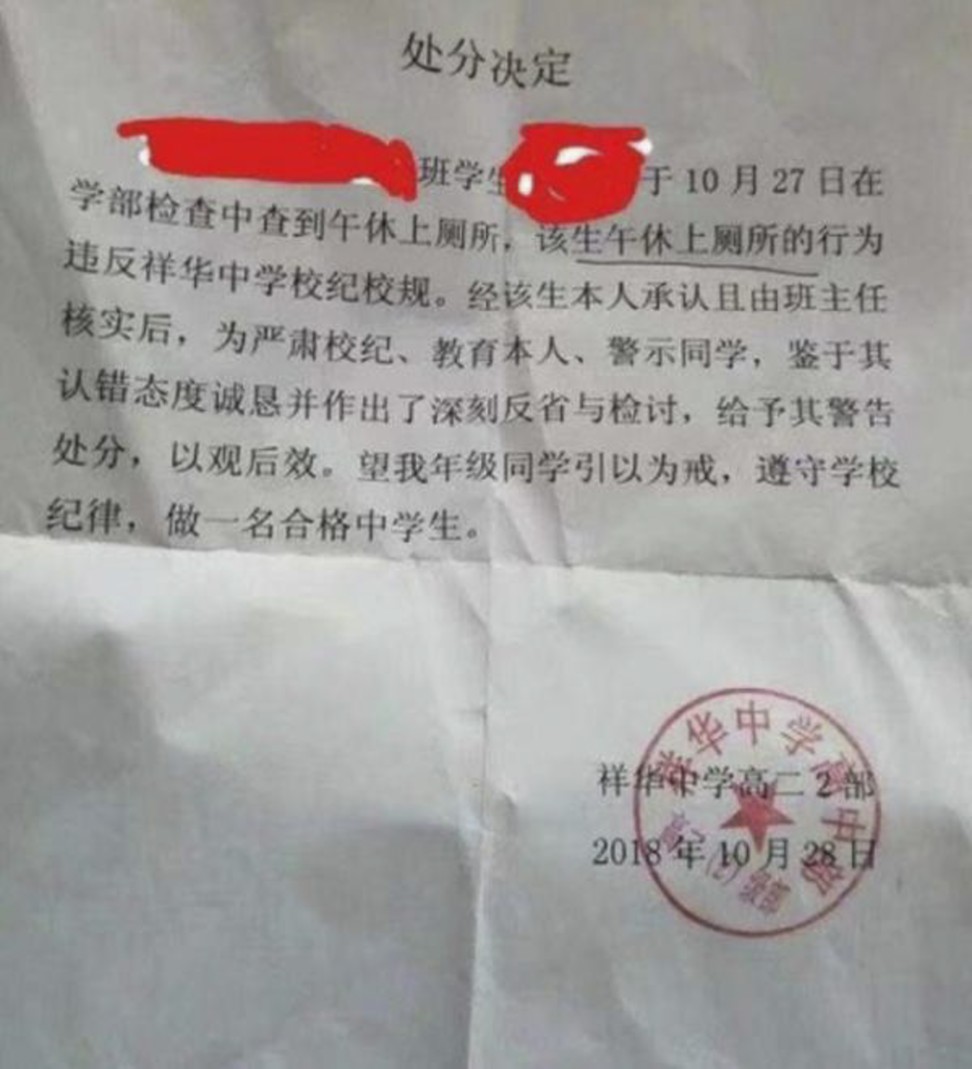 Chinese schools have mandatory nap times, usually after the lunch break. Students who live nearby can go home during this time, but others either stay in their dormitories or sleep in the classrooms.
Social media users on Weibo expressed concern for students' health if they were prevented from relieving themselves when they needed to.
"How much disturbance can using the restroom cause?" one person asked.
"Did he fart too loudly?" another joked.
Others expressed sympathy for the student, saying they had been punished for the same thing when they were at school. "My school didn't allow us to leave the dormitories during nap time and my classmate and I were made to stand in the hallway for trying to use the restroom," one person wrote.
While the school did not specify how the student would be punished, other teachers in China have made headlines in recent months for using extreme methods to keep students in line.
In September, a 16-year-old boy in central China died after being made to do frog jumps up a 20-metre slope as punishment for talking during nap time.
And in July, three boys ended up in hospital with nicotine poisoning after their teacher made them drink cigarette ash "tea" after catching them smoking in school.
For the latest news from the South China Morning Post download our mobile app. Copyright 2018.