Beijing has called for its partnership with the Maldives, where it has channelled significant aid and investment, to develop "in a healthy manner" as it vies with India for influence over the troubled Indian Ocean archipelago.
Chinese Foreign Minister Wang Yi told the Maldivian president's special envoy Mohamed Saeed in Beijing that China was closely watching the political crisis in Male, the ministry said in a statement on Friday.
"The international community should play a constructive role in promoting the Maldives' stability and development on the basis of respecting the Maldives' wishes," Wang said.
"China has poured in unconditional aid and assistance for the Maldives' socio-economic development. The cooperation between China and the Maldives benefits all people in the Maldives and we hope the cooperative partnership of the two nations can be developed in a healthy manner."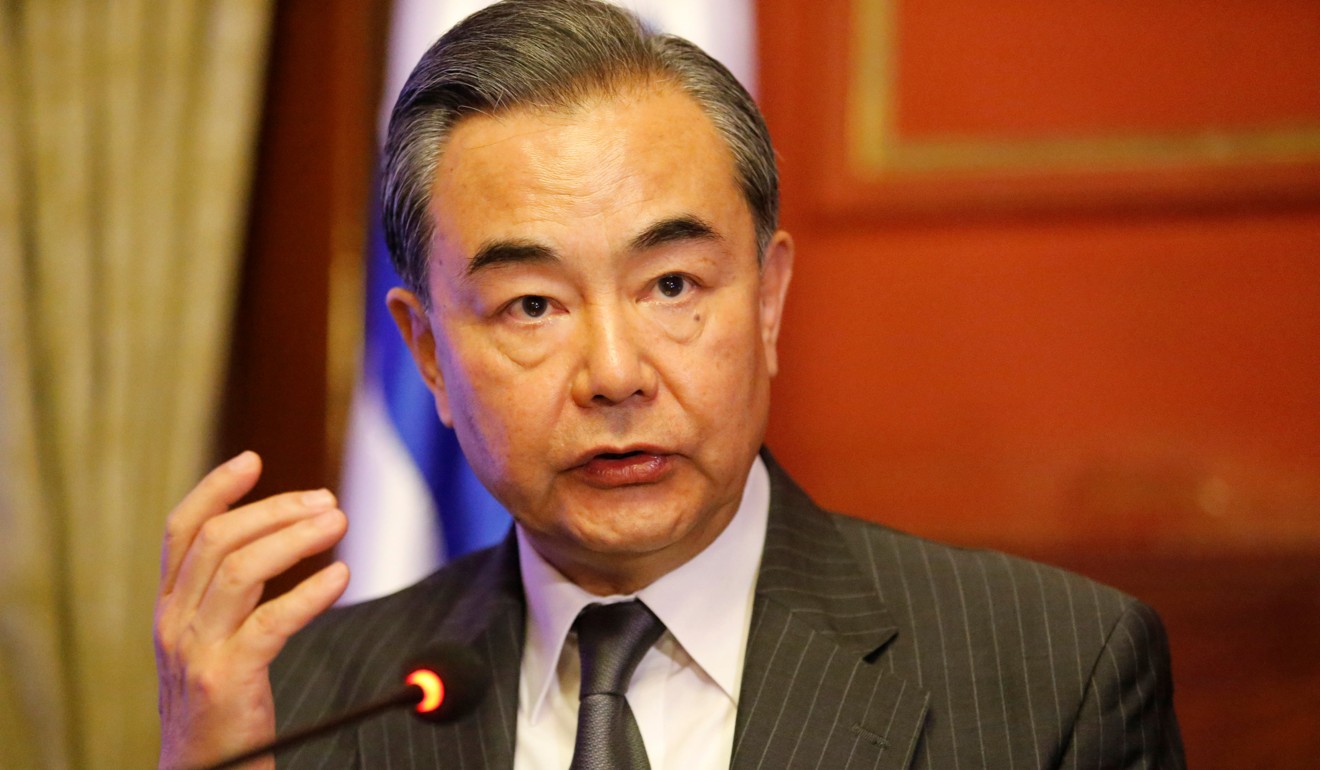 Wang's remarks came after Maldives President Abdulla Yameen announced a 15-day state of emergency in the luxury tourist hotspot on Monday, triggered by a Supreme Court ruling last week to free political prisoners and opposition politicians. Yameen rejected the ruling and detained two judges.
The Maldives sent envoys to China, Pakistan and Saudi Arabia to brief them on the political crisis, but no envoy went to India because the dates were not "suitable", according to the Maldivian embassy in India.
The bid for support from Beijing came as the Maldives' exiled former president Mohamed Nasheed – who was expected to stand for election under the opposition party later this year – called for military intervention from India, which has joined the United States and Britain in calling for Yameen to abide by the court ruling.
Sun Shihai, a specialist on China's relations with South Asia at the Chinese Academy of Social Sciences, said Beijing was wary of political changes in the Maldives becoming a setback to its "Belt and Road Initiative" as they had in Sri Lanka and Nepal, where Chinese infrastructure and dam projects were suspended when new governments took power.
"The stability of the Maldives is concerning for China because of all the investments there and also the uncertainties if there is a change of government," Sun said. "Yameen is generally seen as pro-China because since he took office [in late 2013] economic relations between China and the Maldives are the closest they have ever been."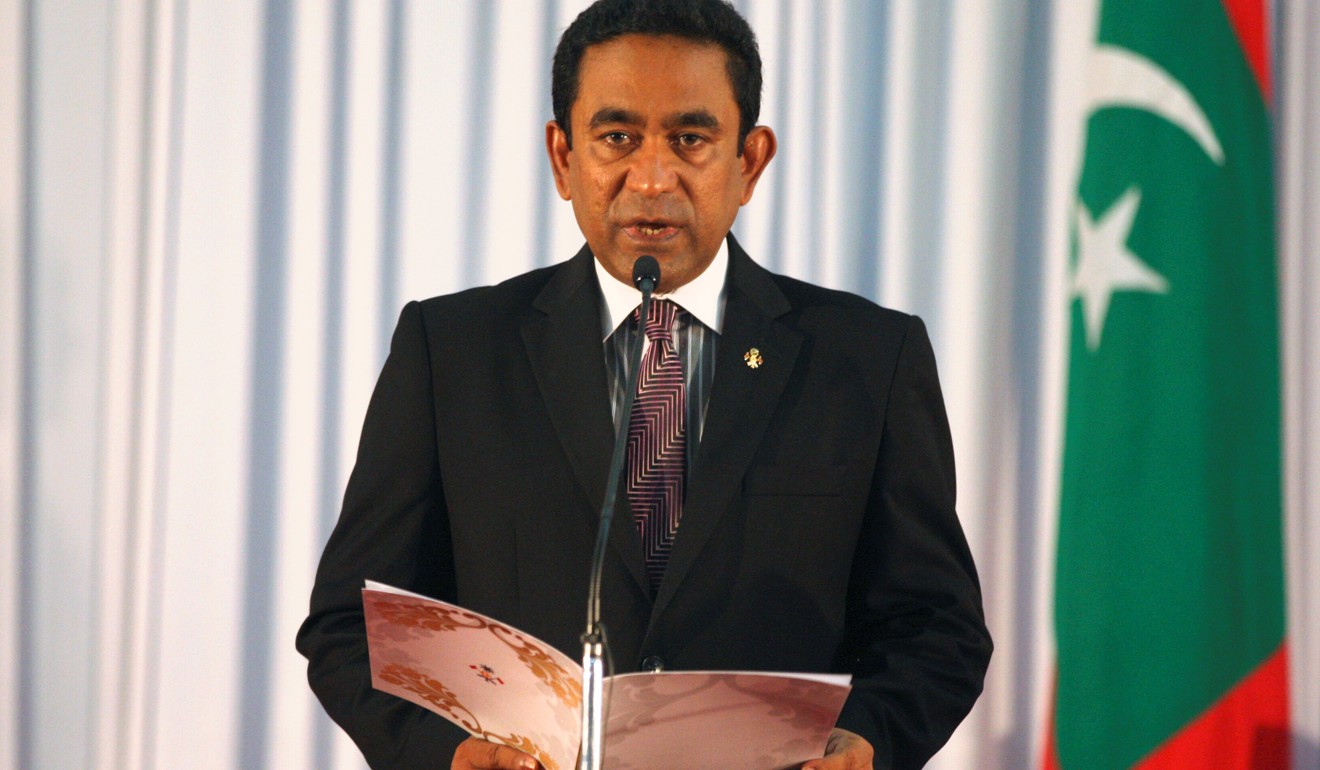 Through its belt and road strategy, Beijing is trying to revive old trading routes on land and sea, linking China across Asia to Africa and Europe. Chinese funding has gone towards an airport upgrade, land reclamation projects, resorts, roads and housing in the Maldives as part of the ambitious trade and infrastructure initiative.
The two countries signed a free-trade agreement in December during Yameen's visit to Beijing, while Chinese tourists now account for more than 25 per cent of visitors to the beach paradise – where gross domestic product is overwhelmingly generated by tourism – according to an International Monetary Fund report in December.
But the report also put the Maldives' debt-to-GDP ratio at 34.7 per cent in December, and it is expected to surpass 50 per cent within three years.
According to Nasheed, 80 per cent of that debt is owed to China.
The Maldives also has a US$286 million trade deficit with China, which is its third top source of imports, World Bank data up to 2016 showed.
Srikanth Kondapalli, a professor of Chinese studies at Jawaharlal Nehru University in New Delhi, said India was concerned about China's influence and intervention "in the internal affairs of the Maldives" through the iHavan project.
China and Saudi Arabia have both invested in the project to develop a new economic zone with a port, airport, cruise hub, marina and dockyard in the northernmost atoll of the Maldives, Ihavandhippolhu. It is one of China's port projects in South Asia that are fuelling security worries in India, which says the ports represent "a string of pearls" to contain its regional power in the Indian Ocean. The iHavan website says it is just "a few minutes away" from the nearest Indian land.
Kondapalli said the sending of special envoys to China, Pakistan and Saudi Arabia suggested Yameen was desperate to "cling on to power".
"While these three countries have elevated their ties to Male … when the chips are down, they will be of no major consequence," he said.
Despite the strong economic ties Beijing has built with Male, Dhruva Jaishankar, a foreign policy expert at Brookings India, said the Maldives was still "dependent on India for a number of things, such as medical access, education and humanitarian support".
He said Yameen's pursuit of investment from China and Saudi Arabia was an attempt to consolidate his power.
Sun noted that South Asian countries would always take regional politics into consideration and try to balance India's interests.
"But no matter who governs these countries, it will not change the fact that they need more Chinese investment," he said.